Play Now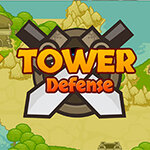 In Tower Defense, your village needs you! Your enemies are preparing to launch an assault on your land, so you better be prepared to face them. They might look large in numbers, but with strategic thinking and powerful towers, you can stop them. Can you complete each of these levels, and show these monsters that their efforts are futile?
Your enemies are so sure of themselves but they didn't plan to meet you. The objective of this game is fun and simple. All you have to do is to pass each level by defeating a target number of enemy units with your towers. The game features 15 different levels to complete, and you have 3 difficulty options. Only the first level is available in the beginning, and you can unlock the rest one by one. When in a level, your health, resources, and the current enemy wave is located in the top left corner of the screen. Click on the slots by the sides of the road open the build menu and pick a tower to place there. You have 4 different tower options, each with different stats and attack types. The arrows you see on the path show the direction of your enemies. With each enemy you kill, you'll earn resource points. With these, you can place more towers. You earn coins when you complete a level and can spend these to buy upgrades. Have fun!
Try to make the best decisions to survive through many different and dangerous scenarios in the games listed under our collection of free and online strategy games. Enjoy!
Features
15 challenging levels to complete
Colorful 2D graphics
Entertaining gameplay
Different tower types and upgrades to use
Controls
Use your mouse to play this game.