Play Now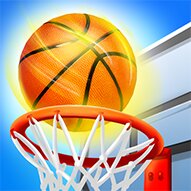 Score baskets against the countdown to become the Basketball King! Aim for the goal and work on your shots to prepare for the harder levels! Grab one of the balls rolling at you, and send it to the ring to score points! Practice to get better and become a master at basketball shots!
Welcome to a basketball field where you control everything from the size of the ring to the time limit! Here, you get paid for your victories against classic levels and online opponents and use your money to get boosters that change the fate of the game! Get new missions every day, complete them to earn rewards, and spin the wheel every day to get surprise gifts! Watch short ads to receive big boosts, and use them to start the game with extra advantage! Unlock glamorous skins for your ball, upgrade your boosters, and advance faster through levels! Each level has a basket goal; you must reach that goal to pass the level. Grab the balls and send them straight to the ring. Shoot them without resting to reach your highest score before the time runs out. Try the PvP mode to get matched randomly with another player and race against them!
If you like this basketball game with game modes, rewards, and boosters, you can check out our Sports Games to find more games like this!
Developer
2Play developed Basketball King.
Release Date
August 1, 2022
Features
Good 3D graphics
Game modes
Upgradable boosters
Unlockable skins
Available on mobile devices
Controls
Use your mouse to hold and throw balls.