Play Now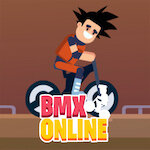 In BMX Online, it's time to show how talented you are on two wheels. Take your place by the starting line and get ready to challenge other players in this fun and addictive online game. Can you ride fast enough to embrace the finish line before your opponents?
Riding a bike is fun, but proving that you're the best through competition is much more rewarding. Your objective in this game is to win each race by being the first player to reach the finish line. To start the game, click on the play button on the main menu. You'll see there are different character options to choose from, but in the beginning, only one of them is available. You can unlock the rest with coins that you earn by winning races. To control your character, you can use the arrow keys. Move forward and back with the up and down arrow keys, respectively. To lean back and forth, you can use the left and right arrow keys. Performing rolls in the air increase your speed, so you'll gain an advantage over your opponents. You can check your progress from the bar located at the bottom. If you fall, it'll take a couple of seconds for you to respawn. This can cause your opponents to close the gap, so ride carefully and keep your eyes on the road! Good luck and have fun!
Embrace the challenges of biking in our other fun and popular game, Stickman Bike Rider. Enjoy!
Developer
DAB3 Games developed BMX Online.
Release Date
November 2, 2018
Features
Colorful 2D graphics
7 different characters to choose from
Intuitive controls
Online multiplayer gameplay
Controls
You can use the arrow keys to play this game.