Play Now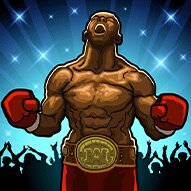 In Boxing Stars, it is time to wear your gloves and show up in the ring! Never abandon the match! Prepare to fight in the boxing ring against your opponent! You've come to defeat your opponent! Allow no one to stop you from accomplishing your goals! Put your gloves on and get into the ring! Best of luck to you!
"The hero and the coward are both experiencing the same emotion. The hero, on the other hand, transfers his fear to his opponent, whereas the coward runs. It doesn't matter what you do with fear; what counts is what you do with it." So, put your worries aside and focus on defeating your opponent! To become a professional boxer, you'll need a lot of practice, but with the simple controls of this game, you could be the champion! To begin, pick one of the two characters. You can choose from four different game modes: underground, club, tournament, and championship. A fantastic way to win a match is to knock out your opponent. Combine various attacks, blocking, and movement to create your own strategy and story. To compete in increasingly competitive competitions, improve your talents. Put your boxing gloves on and get ready to fight like there's no tomorrow. In battle, defeat all of your opponents and acquire all of the awards. Best of luck in your struggle! Enjoy it!
If you want to play another game similar to Boxing Stars, then be sure to check Super Boxing Fight Night, too.
Developer
Inlogic Software developed Boxing Stars.
Release Date
August 27, 2021
Features
2D colorful graphics
4 different game modes to choose
Entertaining gameplay
Intuitive controls
Controls
You can use your ASD keys and arrow keys to play this game.