Play Now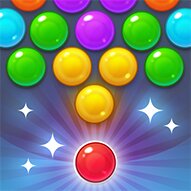 Shoot colorful candies with Bubble Shooter Candy 2! Lose yourself among the shiny candies of all colors! Race against time and luck while preparing for the next candy wave, erase the rows with quick thinking and precise shooting skills, and clean the table with the best strategies! Let's see how you do in this challenge!
You've come this far to discover the land of desserts, so why not start your sweetest journey right now? Aim at the same-colored candies and shoot to make candy groups fall. There must be three or more identical candies in a group for them to fall, so plan your moves carefully. Use the aiming vector to shoot directly or bounce off the walls to reach more challenging spots. Be careful where you're shooting because unsuccessful shots can get you new waves. Once you drop every member of a color in a game, you get rid of that color for good. You can check and compare the scores below. Your score is on the right, and the score you need to get a bronze, silver, or gold cup is on the left. Do not stop trying to get better and break new records to become a master candy shooter!
If you like this delicious bubble shooter, you can check out Bubble Game 3 Deluxe for more bubble action!
Developer
SOFTGAMES – Mobile Entertainment Services GmbH developed Bubble Shooter Candy 2.
Release Date
August 8, 2022
Features
Shiny and bright colors
Nice graphics
Simple controls
Aiming vectors and a scoreboard Increasing difficulty
Available on mobile devices
Controls
Use your mouse or finger to aim and shoot.