Play Now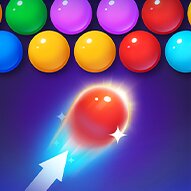 Pop the bubbles in Bubble Shooter HD 2! Are you a fan of bubble shooter games? Then, this one is just for you. Come and enjoy the thrill of which bubble will pop up next, throw them up in the air and watch chain reactions happen.
This game is created in classic bubble shooter mode. The colorful graphics and the light gameplay let you soothe yourself. You will see a board full of bubbles in different colors. These bubbles are meant to be popped, so that you don't run out of space while the new waves of bubbles keep coming. You can pop out a group of bubbles by throwing a bubble of the same color on top of them. Shooting the bubble at hand randomly will cause you some space since you need at least three identical bubbles to pop them. You can choose one from the three difficulty levels; novice, expert, or master. You will see your stats per difficulty level and can challenge your highest score at each mode respectively. Now, start this classically fun game and go on for as long as you wish.
Do you like popping bubbles and enjoying their colorfulness? Then, you should also check out Bubble Shooter Pro 2 for another bubble shooter game!
Developer
SOFTGAMES - Mobile Entertainment Services GmbH developed Bubble Shooter HD 2.
Release Date
September 26, 2022
Features
Colorful 2D graphics
Easy and fun controls
3 different difficulty levels
Stats available for your control
Controls
You can use the cursor to aim for the spots and left-click to send the bubbles.