Play Now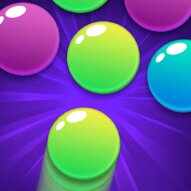 Prepare yourself for the best shooter game with thrilling exclusive features because Bubble Shooter Pro 2 is here to offer your everything this genre needs! The increasing pace will raise your heartbeat, while the random boosts will give you temporary solutions that can be turned into second chances!
The rule is simple: you shoot a colored ball at a group of two or more same-colored balls and destroy them. Think of these groups like a bunch of grapes holding onto each other. Shooting and dropping the top line erases everything under it. So, shooting at the top rows when you have the chance and a clear aim is the best strategy as it will clean out a big crowd. The speed increases with time, so don't let the bubbles get close to you at any cost, even if it means using your combos to clean the field. There are no levels; it's just you and your best score against the game's pace. You can revive twice by watching a short ad upon dying and continue towards your new record. You can see the list of your best scores and set new goals to put on it!
If you like shooting bubbles, you can check out Bubble Shooter Pro to discover another addictive game of this series!
Developer
SOFTGAMES – Mobile Entertainment Services GmbH developed Bubble Shooter Pro 2.
Release Date
May 2, 2022
Features
Vivid and vibrant colors
Surprise boosts
Addictive and fun gameplay
Available on mobile devices
Controls
You can use your mouse to play this game.