Play Now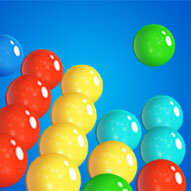 Bubble Shooter Pro will captivate you with its colorful graphics and addictive gameplay. Get ready to spend hours in front of the screen, because there's no stopping playing this game. With its colorful bubbles and smooth controls, what will be your high score in this challenging game?
Still wanna play? Okay, then get ready to pop all the bubbles! If you're familiar with bubble shooter games, then you likely know what you need to do. You have to pop as many bubbles as you can without letting any of them touch the bottom of the screen. To pop bubbles, you should group up 3 or more of the same-colored ones together. You earn points by popping bubbles. At the bottom, you can see point slots. These points are also added to your score each time a bubble passes through it. You can use the aim indicator line as a guide to squeezing bubbles into tight spaces. If you feel things are easy, you can adjust the difficulty from the settings menu. The game continues as long as you keep popping bubbles. But even if a single bubble touches the bottom of the screen, you'll lose the game. Every 3 moves not resulting in popping will cause the bubbles to come down a line. Be careful and have fun playing!
If you're into this genre, we have a recommendation for you! Go and try our other addictive bubble shooter game, Bubble Shooter Wheel! Click here to try it now! Enjoy!
Developer
Azerion developed Bubble Shooter Pro.
Release Date
September 17, 2021
Features
Colorful 2D graphics
Intuitive controls
Entertaining and addictive gameplay
3 different difficulty settings
Controls
You can use your mouse or touch controls to play this game.