Play Now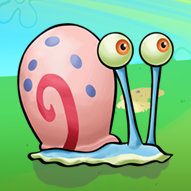 In Spongebob Snail Park, your dream of becoming a part of the underwater world is coming true! Gary the Snail and his snail friends that roam the streets of Bikini Bottom are coming to your park to enjoy the day. Can you make sure they receive the best services?
It's time to become a part of the Spongebob Squarepants Universe! Black Snail, Billy the Snail, and all the other characters come together in this game to bring joy to your day. Your objective is to build your own park and entice the snails to come and explore it. You need to make sure their every need is met and they leave your park happy. To attract them, fill the bowl with food, decorate your park and play with them. When a snail is happy, they leave more coins. So, try to do everything they want from you to collect more coins. Buy expensive foods to attract rarer snails. You can decorate your park with items that are free of charge or buy more interesting ones. Click the chest button in the top right corner of the screen to see your items. When a snail comes, take a picture of them for your photobook. Use the watering can to give them energy, the brush to make them more comfortable, and the ball of yarn to play with them. Oh, look! Larry the Snail is coming. Did you manage to please him? Hooray! He gave you 3 coins. Snailed it! Props to you!
If want to try something similar to this game, check out Snail Bob and help a snail through tough levels. Have fun!
Features
Achievements to unlock
Spongebob characters
Fun gameplay
Colorful graphics
Controls
Use your mouse to play this game.