Nick Jr Halloween Dress Up
Play Now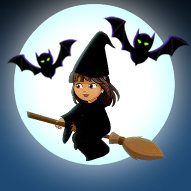 In Nick Jr Halloween Dress Up, get ready to change into costumes and set the scene for Spooktober! The pumpkin season has arrived, and your favorite characters from tv shows want to dress accordingly. Can you help them in this fun game?
Cobwebs, scarecrows, skeletons, and many other spooky decorations are welcoming the coming of Halloween, and you should also spread the spirit of this fun season! Why not start with picking one of the 6 available locations in this game. Your objective is simple and fun. All you have to do is to decorate each place with the use of different items and characters. You can play the game with your mouse, so click on the play button on the main menu to start the game. From a pirate ship to a creepy graveyard, each location has a different theme. On the right side of the screen, you can see item categories. At the top, you have the character tab. Click and drag a character from there to place them. Below that, you can browse different costumes. What would you want your character to look like? A sneaky vampire, a powerful wizard, or maybe a friendly alien? Click and drag a costume to a character on the screen to make them wear it. Add some other decorations, and when ready, click on the done button. Enjoy!
If you still haven't decided what to wear during this Halloween, maybe the girls in Instagirls Halloween Dress Up could give you some ideas. Have fun!
Features
6 different places to pick
Popular cartoon characters to dress up
Intuitive controls
Entertaining gameplay
Colorful 2D graphics
Controls
You can use your mouse to play this game.