Play Now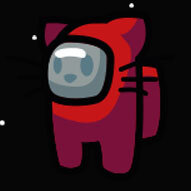 In Catac.io, get ready for a cat fight in space! No, we are kitten around. After all, all the legends were true. The cats are aliens, and now, an epic fight begins! Now is the perfect chance to take control of a cat and test your might! Are you ready to show everyone who the best cat is?
Get your paws ready and take out your claws. We don't need to understand the feline language to know that these cats are dangerous, but so are you! Are you ready to show them who the real cat-astrophe is? Get ready meow! Your objective is to score more points and kills than your enemies. Enter the arena and start looking around for your next victim. All you need to do is walk up to your enemies with your knife. When they touch your knife, they die. But be careful! If you touch their knives, you die too. To run, you can hold the left mouse button. Keep in mind that your stamina isn't that great at the beginning of the fight. That's why look at the stamina bar at the bottom of the screen, above the level bar. Kill cats to level up. As you level up, your stamina will be better. As you score kills and points, you'll earn coins that you can use to buy new skins, hats, and even pets. Nothing better than looking cool as you destroy these copy-cats, right? Are you ready to beat your own high score in this .io game?
If you want to play another multiplayer game like this one, you can check out Impostor. Enjoy!
Developer
Grinding Games developed Catac.io.
Release Date
March 23, 2021
Features
Online multiplayer gameplay
New skins, pets, and hats to buy
Nice 2D graphics
Intuitive controls
Controls
You can use your mouse to play this game.