Play Now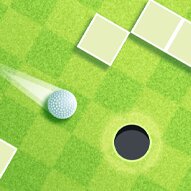 Are you ready for a friendly match with your friends in Clash of Gold Friends? Golf is a very gentle and fun sport, and we know you would have liked to play it more often. Now, you can challenge your friends and play endless levels of golf. Are you ready to go as far as you can in this game?
Here you have the chance to play online golf with your friends in real-time. If you are alone and want to find new friends, you can let the computer find another online friend for you, too. If not this either, you always have the chance to play against a bot. After you make a choice, you may choose a 2-people team or a 4-people team to start the game. Your main goal in this game is the same as a classic golf game. You should drop your ball into the hole. To achieve this, you should balance your power when moving your ball and try to approach the hole in as few moves as you can. Sometimes, the walls in the middle of the platform may make things harder. But sometimes, you will see some assisting arrows that boost you forward, too. Now get onto the field and try to pass 10 levels. You can start a new match and play if you wish after those 10 levels.
If you enjoyed playing Clash of Golf Friends, you should take a look at our collection of free and online sports games here.
Developer
MarketJS developed Clash of Gold Friends.
Release Date
September 30, 2021
Features
2D colorful graphics
Challenging platform
Intuitive skills
Online rivals
Addictive gameplay
Controls
You can click on your mouse to rotate the ball and set the power.