Play Now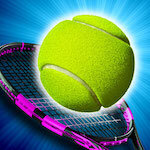 In Crazy Tennis, the aliens have landed on the Earth, and the only way to stop them is to beat them in the tournaments. Humans can't afford to be invaded in this battle, so only the best can face these unwelcome visitors. So grab your racket, flex your muscles, and put on your sweatband. The fate of Earth lies in your hands, so you better start scoring those points!
Don't expect an ordinary tournament in this game. Instead of human rivals, you'll be competing against aliens for the freedom of Earth! Your objective in this game is to win each match with your character. Get ready to run around and swing your racket. There are 3 different modes in this game. The first one is the tutorial where you can get familiar with the controls. The second one is the simple match. You can face any opponent you want in this fast game mode. Lastly, you have the story mode in which you can improve your skills, win the matches, and save the Earth. You can move your character with the arrow keys. Press the space bar to swing your racket. You can adjust the power of your shot by pressing and holding the space bar. Good luck!
Do you enjoy scoring points? If so keep swinging your racket in our other popular title, Tennis Game!
Developer
GameBuilt developed this game.
Features
Story mode
Simple match mode
Colorful 2D graphics
Challenging gameplay
Controls
Use the arrow keys to move, press the space key to shoot.