Play Now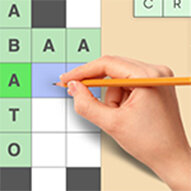 In Crossword Puzzles, you are invited to one of the most challenging crossword puzzles! But don't worry it is one of the classical puzzle games that is loved by everyone at any age! We will play crossword puzzles today! If you are ready, let's jump into the game and see if you can solve them all! Have fun!
Do you know the name of Hebrew fathers? What organisms live in the pools? What is the name of public squares in ancient? Do you have any idea about the answers to these questions? If not, don't worry! You can always check the hints! If you are ready for all these amazing questions, let's start the game by clicking on the play button. Your aim is to correctly answer all of the questions on the board. To play this game, all you need is a mouse. Read the question and enter your answer by clicking on the squares. The area will be marked as green if your answer is right. If you find all of the puzzle's answers, the board will be covered with green cells, meaning that the puzzle was correctly solved. You can choose from seven different dimensions. If you want, you can pick a small or large puzzle with a lot of questions. Are you feeling stuck? Don't worry! Simply click the "Get Hint" button to move on. Are you ready to solve all the puzzles in the game? Good luck!
If you liked Crossword Puzzles, to check our collection of free and online puzzle games, click here!
Developer
Genius Games developed Crossword Puzzles.
Release Date
March 13, 2021
Features
2D graphics
Various puzzles to solve
Entertaining gameplay
Educational gameplay
Controls
You can use your mouse to play this game.