Play Now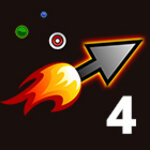 In Cursor Attack 4, SPHEROX stole all the energy from the orbs, and it's your job to take back what was yours! Dive into a world filled with challenges, obstacles, and action! Do you have what it takes to overcome all the enemies and become the hero?
The objective of this game is to collect all the green orbs in a level to complete it. The game features 5 different worlds, each with 10 levels in them. After you completed all the levels in a world, you have to face a boss in a fight. The first world acts as the tutorial, and you'll learn the basics through these levels. You'll encounter different orb types. You can destroy some of them on your own, while for others, you might need to use different tools. Upon destruction, these orbs will drop green energy orbs. You can check your progress in the level from the top of the screen. Experiment with different orbs, and try to complete all the levels! If you want, you can create your own levels with the level editor! Have fun and good luck!
Check our collection of online and free action games for more fun and challenging titles! Enjoy!
Developer
Paul Hogg developed Cursor Attack 4.
Features
Colorful 2D graphics
Can create your own levels
Intuitive controls
Entertaining gameplay
5 different worlds
50 different levels to complete
Controls
Use the A and D keys or the left and right arrow keys to spin the cursor. Use the SPACE BAR to smash to cursor to restart the level if you get stuck. Click and hold to shoot. Use the W key or the up arrow key for tips.