Play Now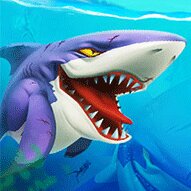 In Hungry Shark Arena, sharks are up to no good. Get ready to take control of one of these hungry predators, join people from all over the world, and become a part of the addictive game that captured the attention of players of all ages. Do you think you will be able to climb to the top of the leaderboard?
Welcome to a place that looks like out of this world! Only a handful of people know where this place is. The water is warm and as clear as the day. There may be a couple of hungry sharks on the loose, but that's nothing to worry about, as long as you are one of the sharks! Your objective is to take control of one of the sharks and try to reach the top of the leaderboard. Use your mouse to control your character and dive deep into the water to start the massacre. Eat all the fish and humans to fill your stomach with delicious food. Other players will try to do the same, so try to be quick. The more you hunt down food, the bigger you'll get. Keep in mind that bombs can slow you down. Try to stay away from them all. As the game progresses, the safe zone will shrink, and a green toxic gas will surround the area. Stay away from it to survive. You can see how many players are left from the top left corner of the screen. Do you think you can climb to the top of the leaderboard and unlock different sharks to play as? Good luck!
If you are looking for more games like this one, check out Grogg.io by clicking here. Enjoy!
Developer
Ubisoft developed Hungry Shark Arena.
Release Date
July 2, 2021
Features
2D colorful graphics
Online multiplayer game
12 sharks to unlock
Entertaining gameplay
Controls
You can use your mouse to play this game.