Play Now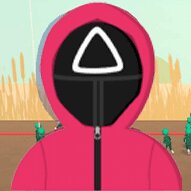 Fight for your freedom in Round 6: The Game! Six rounds of epic games followed by the big finale await you in this game. You should win them all one by one to get to the finale and to have a chance to save your life. Are you ready to try your best to win these games?
You are only one of the poor people who need to fight for their lives in this series of brutal games. If you win these games, you are safe. If you fail them, on the other hand, the punishment is death. Of course in this game, you have the chance to try winning the same level three times. Play the very well-known levels of the squid challenges. These levels are no other than the red light, green light, honeycomb, the big fight, tug of war, marbles, and glass stepping. If you are good enough to win these games, you will be one of the two final players. Get as much as energy you can before you begin the final game so that you can be the ultimate winner and be free! Now, let's see how much of a warrior you are!
If you enjoyed competing in this series of games in Round 6: The Game, you should check Squid Challenge to play even more challenging squid games.
Developer
FirstPixel developed Round 6: The Game.
Release Date
December 10, 2021
Features
3D colorful graphics
Intuitive skills
Challenging gameplay
7 rounds of challenging games
Controls
You can use your mouse and arrow keys to play the games.