Play Now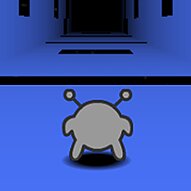 Run! Until there are no worries left! Run! You should be ready for running nonstop to complete this game! Just don't look back and try not to fall into the eternal space! Take this seriously and run on the platform to survive! How far do you think you can go?
You, little alien, you have been living in the space for all your life, but somehow you found yourself in an awkward position! And to go back to your homeland, you need to pass on some tricky roads like a labyrinth. The tunnel goes beyond as long as you can see, but if you fall from the holes, you will find yourself floating in space. Your goal is easy. To get to the end of each level, you have to run and jump your way through the labyrinth. You can play in one of two different game modes. You can play the game at normal speed or try the fast mode to test yourself even more. You'll notice some holes when you run into this three-dimensional tunnel. To keep running, avoid them at all costs. The advantage in space is that gravity does not apply there. You have complete freedom to run around walls and spin the screen at any time. Don't forget! This game requires enormous concentration and memorization! Can you believe you'll be able to get through all of the levels?
If you liked Run, to check our collection of free and online running games, click here!
Developer
Joseph Cloutier developed Run.
Release Date
April, 2021
Features
3D graphics
Multiple levels to complete
2 different game modes
Intuitive controls
Controls
You can use your arrow keys or WASD keys to play this game.