Play Now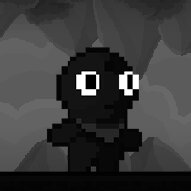 In Shadoworld Adventure, the time has come! You will finally see what is going on in the shadow world with this retro game! Are you confident enough? How long do you think you can survive alone in this world of shadows? Good luck!
You think that you are a normal and ordinary person, but somehow you have found yourself in this shadow world! So, now you have to find out your inner power and take care of yourself in this dark world! you need to be really careful since this world is full of traps and evil monsters who are waiting to kill you. The goal is for you to take control of your character and lead them to the portal. The WASD keys can be used to control the character. Spikes, gaps, and even monsters will be there on the platforms as obstacles. To avoid all of these traps, you must jump at the right time. If some of the platforms are too high, you can double jump by double-clicking on the W key. At each level, you have three lives to use. Before the timer runs out, jump on the monsters to destroy them and go to the portal. Collect the keys to unlock the portals, and don't forget to collect all of the stars. There are 50 levels waiting for you! Have fun and good luck!
Do you want to play more games like this one? If so, take the different challenges in our collection of free and online adventure games.
Developer
JM Neto Game Dev developed Shadoworld Adventure.
Release Date
May 20, 2021
Features
Many levels to complete
Entertaining and addictive gameplay
Retro-themed graphics
Intuitive controls
Controls
You can use the WASD keys to control your character.