Play Now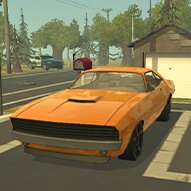 Travel to a dark alternative reality and become a bandit in Parking Fury 3D! The darkest of a series of car stealing games is here. In this world with filthy air, you are wandering around to make a living out of stealing cars. Now, are you ready to dive into this adventure and take an action?
In this adventure with 3D graphics, you will find yourself directly in a different world. You are an infamous car thief living in this town. Your aim today is to commit a bunch of thefts to complete your tasks for the day. You are expected to steal one car and then take it to the parking spot you've been assigned. You can go on with this as long as you are not busted by the cops! So, be careful not to bump into one. You can check where the police cars and the parking spots are by checking the map on the top left of the screen. If you are successful in completing the thefts, then you can unlock new scenarios in new places, too! Now, unleash your inner car bandit and see if you can handle this task!
If you enjoyed playing this 3D adventure game, you should check out Parking Fury 2 to experience similar gameplay in a different world!
Developer
Vitalitygames.com developed Parking Fury 3D.
Release Date
November 26, 2021
Features
3D colorful graphics
3 different driver views
Assistive road map on the screen
High/middle/low quality graphics options
Need for skillful driving and parking controls
Always on the run!
Controls
You can use the WASD or arrow keys of your computer to drive and park the car.