Play Now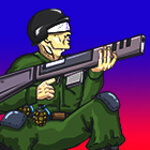 In Death Lab, get ready to infiltrate a lab full of enemies, and get rid of them one by one with your trusted weapons. Armed with high-tech weapons and armor, it won't be an easy job to defeat your opponents. Do you have what it takes to delve deep into the lab and complete each level by eliminating your targets?
You're the only one who could stop this trouble so be prepared! Your objective in this game is to complete each level by eliminating all the enemies in them. You can play the game with your mouse. To start the game, click on the play button on the main menu. On the next screen, you'll see the levels. The game features 48 different and challenging levels, but you'll have to unlock them one by one. Start with the first level. Use your mouse to aim at your enemy. At the bottom of the screen, you can see different weapon types you can use. Each type has a different use. You can upgrade these at the in-game shop to increase their effectiveness and more! You use coins for the upgrades, and you earn those as you complete levels and missions. Click on the missions tab in the top right corner of the screen to check what you should do. Good luck and have fun!
For more games like this, be sure to check our collection page of free action games. Enjoy your time at Yepi!
Features
Colorful 2D graphics
An in-game shop to buy 8 different upgrades
Intuitive controls
Entertaining gameplay
48 levels to complete
Different missions to complete
25 different achievements to get
Controls
You can use your mouse to play this game.