Play Now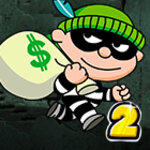 In Bob the Robber 2, our sneaky character Bob is on his second adventure, and he needs your help just like the previous time. When duty calls, our extraordinary hero will never stand back! He needs to break into places, but the security precautions might be a bit challenging this time. Can you complete all the levels with him, and prove that he's the best thief in the world?
Wear your gloves and put on your mask! It's time to break into places and grab valuables! The objective of this game is to complete each level by stealing the target and leaving the place without seen by others. This sounds like a hard job, but the controls of this game are pretty simple. To start the game, click on the play button on the main menu. You can control Bob with the arrow keys. Watch out for guards and knock them out if necessary. Cut the cables to stop the cameras or lasers from working. Collect money and spend it on gadgets at the in-game shop to make your job a little bit easier. Good luck, and don't get caught!
Why not join Bob on his third adventure and the next game of the series, Bob the Robber 3. Have fun playing.
Developer
Meow Beast developed Bob the Robber 2.
Release Date
November 2013
Features
The second adventure of the sneaky thief, Bob
Stealthy gameplay
Different gadgets to use
Different enemies and obstacles
Different levels to complete
Controls
Use arrow keys to play the game. Use SPACE to hit. Use the Z, X, and C keys to use your gadgets.