Play Now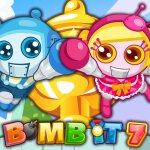 In Bomb It 7, a sports event has been announced and the winner will earn rewards! Went through so many adventures and challenges, we believe you're capable enough to take part in this event and blow up your opponents.
Similar to the other titles in the series, this game also features different game modes that you can try. Each mode has a different objective and gameplay mechanics. In classic arcade mode, you try to defeat all your enemies and become the last standing player to win. In the battle royale mode, you try to kill 10 enemies to win. This seventh game introduces a new mode! Inspired by the popular game, your objective in this Pacman mode is to collect 100 golds before your opponents. Lastly, there is the star collector mode. In this one, you should try to collect all the stars in a level. In addition to game mode objectives, you can also try to complete missions to earn points to unlock new parts to customize your character!
The fun and danger never end in these games! Be sure to check the previous title in this amazing series, Bomb It 6. Have fun playing!
Developer
Bomb It 7 was developed by Spil Games.
Release Date
March 2018
Features
Can customize your character
Lots of fun missions
Variety of power-ups
Can collect weapons
Controls
In one-player mode, use the arrow keys to move and the space bar key to place a bomb. In 2 players mode, use the WASD keys to move and the space bar key to place a bomb as the player 1. Use the arrow keys to move and the ENTER key to place a bomb as the player 2.