Play Now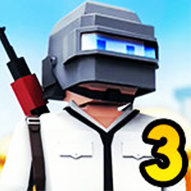 In PUBG Pixel 3, the thrilling battle all around the world continues to bring the action all the way to your screen! With new characters, maps, and excitement, are you ready for the big fight regardless of whatever it takes? Adrenaline and guns will never come to an end. Now, get ready for the big jump, grab all the weapons you find and start this shooting adventure in no time!
In this pixel themed battle game, the action is everywhere! Your objective is to survive no matter what by defeating the enemies to become the last player standing. Choose one of the 5-character options and click on the "start match" button. After being directed somewhere on the map, you have to find as many weapons as possible around in the given time. When the time is over, you will see the plane taking you to the battlefield. Press the "F" key to jump out of the plane when you set your eyes on a suitable place. Your health bar is located at the bottom and the number of players on the map is located in the top right corner of the screen. Kill all your enemies and seize their defense items. Check the updates of the players at the right top of the screen. Good luck!
If you want to add more action to your life like with this one, then be sure to check Eternal Fury.
Developer
Fu Games developed PUBG Pixel 3.
Release Date
March 30, 2020
Features
Pixel themed action gameplay
3D colorful graphics
Various weapon options to collect
5 characters with different professions
Controls
WASD keys to move around. The F key to interact with your surroundings. Mouse to turn around and click to fire. Use the right mouse button to zoom in and out your aim. "SPACE" to jump. Hold SHIFT while moving to sprint.