Stick Duel: Medieval Wars
Play Now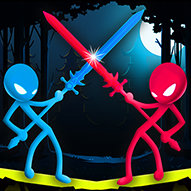 In Stick Duel: Medieval Wars, the time has come! Your nemesis appeared in your territory, and you have to defend yourself against him! It's no joke! It's a matter of life and death! Are you ready for this bloody fight? Good luck!
Gird yourself with a sword! The war is about to begin! You will get to the arena soon! Are you ready for deadly defense? If you are, you can jump into the game after choosing your player mode. You can play this game either against CPU or as two players. In both modes, you can use your arrow keys or WASD keys to control your character. The warriors can also move back and forth in this game. The significant point is the moves of the spears. You should stick it to your enemy by moving wisely. Your objective is to confront and kill your enemy to win the round. The one who attacks and damages his opponent wins the game. But the main purpose is to kill. Take your spear and show yourself on the battlefield! If you aim at your opponent's head, you can win more easily. Don't forget to follow your and your enemy's health bar on the top of the screen. Don't give up, there will be various rounds to defeat your enemy! Good luck!
If you want to play more action games, and try another one similar to Stick Duel: Medieval Wars, then be sure to check Heroes of Myths: Warriors of Gods, too.
Developer
Hihoy developed Stick Duel: Medieval Wars.
Release Date
December 30, 2020
Features
Two players game
Dual game
Medieval themed
Intuitive controls
Controls
You can use your WASD keys or arrow keys to play this game.