Play Now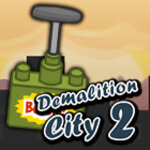 In Demolition City 2, people have heard about your explosive talents from the first title, and they've asked for your help to get rid of more buildings! Pack your dynamites and get ready to travel to different locations to earn money. No building can stand a chance against you and your explosives in this fun game. Do you have what it takes to live up to your reputation?
Explosives are dangerous, but they're very useful tools when it comes to demolition. Your objective in this game is to complete all the levels in the zones by demolishing the buildings. You can play this game with your mouse, so click on the start button on the main menu to begin. The game features 5 different zones that you can visit, but only one of them is available in the beginning. When you complete the levels in the first one, you'll unlock the next zone. On each level, there's a height limit. You should place explosives on the different parts of the building. Once you're ready, click on the BOOM button in the bottom right corner to detonate the explosives. You pass the level when the height of the rubble is lower than the limit indicated by a blue line. You earn money at the end of each level and can spend these to buy different explosives. Good luck!
More explosive fun is waiting for you in our other popular game, Bomb It 7. Have fun!
Developer
Armor Games developed Demolition City 2.
Release Date
2009
Features
Colorful 2D graphics
A level editor to create your own levels
Intuitive controls
Entertaining gameplay
5 different zones each with multiple levels
6 different explosive types to unlock and use
Controls
You can use your mouse to play this game.