Play Now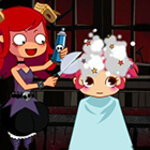 In Devilish Hairdresser, it's time to ruin the hairs of the customers of this fancy hair salon. The angelic hairdresser is at work, but sometimes she needs breaks. Are you sneaky enough to give a more exciting and fun makeover to the customers without her noticing?
A little mischief and fun won't hurt anyone! Their hair will grow back eventually, so why not take some creative freedom and add your own touch to the hairstyling of these customers? Your objective in this game is fun! All you have to do is to complete each level by sabotaging the angelic hairdresser's work when she's busy, before you run out of time. You can play the game with your mouse, so click on the start button on the main menu to begin. The game features 10 different levels that you can complete. On each level, you earn stars based on how fast you complete the job. When the angelic stylist isn't looking, click and hold your left mouse button to cause some mischief. The bar at the top of the screen shows your progress, and you'll win the level when it becomes full. The longer you press the mouse button, the more progress you'll earn. But be careful! If you get caught, you'll be sent to angel prison! So keep your eyes on the angelic hairdresser, and stop pressing the mouse button before she catches you! Enjoy!
Whether angelic or devilish, if you enjoy giving makeovers to different characters, we have a great game for you! Go and play Tik Tok Princess next!
Features
Colorful 2D graphics
10 different clients to ruin their hair
Funny and entertaining gameplay
Intuitive controls
5 different achievements to earn
Controls
You can use your mouse to play this game.