Play Now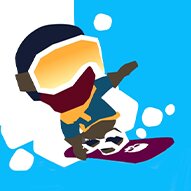 Downhill Chill is here to warm up your bones with some skiing action on cold winter days. Compete against other skiers and show off your acrobatic skills. Attack others, take everyone down, and earn all three stars by coming in the first place. All this snow does not seem enough to keep things from getting heated.
You are a cute Chibi skier with a huge head. You race, do flips and perfect landings, leave others off the competition. Move your character by holding them and moving left or right. Trying to attack other skiers from behind slows you down, but doing the same move by their sides boosts you and disqualifies them. Speed up towards the ridges and use them to jump. You can flip by keeping your finger on the mouse, and let go at the right stance to do a balanced landing. Flips and good landings get you some extra points while boosting your speed for a limited time. You can use that boost to eliminate other racers and pass them. Collect snowflakes and stars to unlock new skins and ski boards you can use in races. If you don't have enough snowflakes, you can watch a short ad to earn some!
If you like winter holidays and skiing, you can check out Gp Ski Slalom and enjoy the mountains more.
Developer
Raketspel developed Downhill Chill.
Release Date
November 29, 2021
Features
Colorful 3D graphics
Cute character design
Easy to play
Skins and equipment to unlock
200 levels of increasing challenge
Available on mobile devices
Controls
You can use your mouse to play this game.