Play Now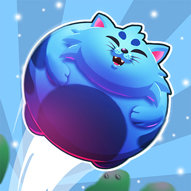 In Super Sushi Cat A Pult, welcome to the colorful world of this purr-ty little kitty where smiling meowntains, torii gates, and many others await you to join in on the fun! It's well known that cats want to conquer the world. But what people don't know is that cats desire sushi above all else. And this blue kitty can't get to fill his stomach with them. Can you help him paw-lease?
Get ready, furrend! Into the forest we go, to find some yummy sushi. But there are many dangers in the forest and we need a skilled adventurer to help us. Purrhaps you can help us? Your job is to launch the cat up in the air and complete the objective in each level. You can see your mission in the left corner of the screen. You must either collect the necessary amount of sushi or travel the required distance to complete all 24 levels. First, click the left mouse button to set power and try to launch the cat as far as possible. There are some obstacles on the ground that will make you lose speed. Beware of bamboos, torii gates, and little ponds to complete each level. If you start to slow up, click to set bounce. Don't forget to collect sushi to charge your bounce meter. Birds and mushrooms can also help you pick up speed. You can also buy upgrades to make this journey easier for you.
Well done. You've managed to complete all the levels. We have to say we like your cattitude. You're ready to take on the world. If you trust yourself this much, let's play Caveman Hunt and see what you'll be able to do in prehistoric times.
Release Date
September 10, 2020
Features
Different boosters to buy
A very fat blue kitty
Nice 2D graphics
Fun gameplay
Controls
Use your mouse to play.