Play Now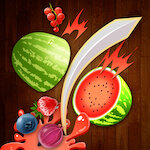 In Fruit Master, head into the kitchen and grab your knife. There are many different fruits to be cut, and only you can complete this task. Ordinary chefs would prefer to use a cutting board, but being a little flashy won't hurt anyone. Get ready to throw knives and fill the glasses!
Fruits are tasty and juicy which make great ingredients for drinks. Your objective in this game is to pass each level by cutting fruits in halves. This game can be played with your mouse, so click on the screen on the main menu to start. When you begin, you'll see different fruits circling above. Click on the screen to throw a knife at them to cut and juice them. When you cut all of them, you'll prepare a glass of drink which will give you coins. At the top of the screen, you can see the level progression bar. Once it's filled, you'll complete a level and continue to the next one. On the left side of this bar, you can see how many fruits you've cut and on the right side, you can see the coins you've collected. If you miss a shot, you'll lose and have to start the level from the beginning. You can customize your knife from the main menu with the coins you earn. Enjoy!
Having fun in the kitchen? Then be sure to check our collection of free food games for more games like this.
Developer
Ketchupp developed Fruit Master.
Features
Colorful 2D graphics
Challenging and entertaining gameplay
Multiple levels
Basic controls
Lots of different fruits to chop and cut
Controls
Press the left mouse button to throw knives at to fruits to create cocktails.