Play Now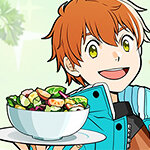 In Chef Hero, get ready to embark on an exciting culinary journey to become the best chef! With your mother's restaurant closed due to her illness, it falls onto you as her son to take over the business. But you have to be a chef to run the restaurant, so grab your utensils, ingredients, and recipes to become one! Can you show your opponents that you know your way around in the kitchen better than them by preparing amazing dishes?
The famous restaurant La Piccola Carota has closed its doors, but no need to worry! When you come back as the champion chef, you can open it for business once again! The objective of this game is to complete each level by preparing various dishes better than your challengers. Each recipe requires different ingredients to be made, but with that special touch, you can earn more points. When you start a level, check the recipe book to see which ingredients you need to use. Then pick them from the bottom of the menu. If you don't have the required items, you can purchase them from the shop. If you want to overachieve, then buy tips. You can also unlock skills to which you can use to gain more points. Good luck, chef!
Keep holding onto your spatula, and try our other popular title Papa's Burgeria. Enjoy!
Developer
Azerion developed Chef Hero.
Release Date
October 23, 2019
Features
Colorful 2D graphics
4 different world that you can play in
Various recipes to prepare
Different ingredients to discover and unlock
Intuitive controls
Entertaining and addictive gameplay
Different skills to use to boost your points
Controls
You can use your mouse to play this game.