Play Now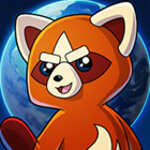 With Dynamons World, you are about to step into a fantastic world where you can master all four elements! Attend various duels and get as many dynamons as you can to join you. All these little creatures have their own element that they use during the fight. So, you should team up with them to increase your power and gain the victory. As the strongest master of this fantastic adventure, are you ready to face your opponents?
The four kingdom is watching everyone but choose only one warrior to be the greatest! You should gather as many team members as you can to win the duels and take the crown. Choose your first warrior to win the battles by using your super skills. If you enter a fight with dynamons only, you can catch them and become their master. After winning a duel, you will obtain awards like level up stones, aid kits, and boosters besides the gold you will earn! You can buy a loot bag and loot chest from the in-game shop to buy new boost-ups, dynastones, and discs to capture more creatures. To visit new places and find more enemies to make duels, click on the map icon at the bottom of the screen and open the map. Decide your strategy, challenge the opponents, and show them all what you are capable of now!
If you liked this game and want to continue to master the four elements in another adventure, then you should check Trisbio by clicking here.
Developer
Plinga Games
Release Date
April 24, 2017
Features
2D colorful graphics
48 different creatures to catch
Multiple places to go
Various duels to join
Daily gifts to claim
Controls
You can use your mouse to play this game.