Play Now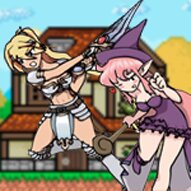 With Ultra Pixel Survive, it is time to find out how to survive in this pixel world craziness! Improve your character's skills and help them to beat evil creatures. Build shelters, collect resources, and create defenses to proceed in the game. You can create your own environment, your house while joining in the battles. How much can you sacrifice to make a life in this adventure?
Welcome to this amazing role-playing game with a pixel art component of the visual series! Here, you will be controlling different heroes who are living in wildlife. To unlock new characters, you must complete the goals that are given and beat all the enemies to stay alive. Collect resources like stones, woods, herbs, and nutrition to use. With the resources, you can construct buildings, make fires, and produce food. Use the axes and other weapons to collect your sources and turn them into shelters and defenses. Several evil creatures and monsters may cross your path but stay calm. All the heroes, including yours, have a unique superpower! Upgrade the stats of your character with your earnings! Good luck and have fun
If you are looking for another pixelated adventure as fun as this one, then don't forget to check 3D Pixels.
Developer
Gold Skull Studios developed Ultra Pixel Survive.
Release Date
August 24, 2021
Features
2D colorful and pixelated graphics
Various characters with unique abilities
Collecting resources and building defenses
Fun and engaging gameplay with cute backstory
Controls
A and D to move. Left click/K to attack. SPACE BAR to jump. F key to dodge. Press the ability button/E with the mouse to use the ability. 1,2,3 to change tools.