Play Now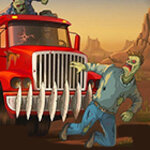 In Earn to Die 2012: Part 2, the action and adventure continue from where you left off in the first game. Zombies are everywhere, and they're blocking the road. Jump into your vehicle, start the engines, and get ready to face the undead. Can you pass through various levels and reach your destination as fast as you can?
You're safe in your base, but an emergency call asks every survivor to visit the airfield. Your objective in this game is to reach that destination through 3 different levels, as fast as you can. To start the game, click on the play button on the main menu. On the next screen, you can select a level. There are 3 levels in the game, but only the first one is available in the beginning. You can unlock the next ones by completing open ones. After selecting a level, you'll be taken to the garage where you can pick a vehicle. You can use a specific vehicle for each level. You can add various upgrades on your vehicles to make them faster and stronger. Use the WASD or the arrow keys to control your vehicle. Try to reach the end of the level to complete it. If you can't do it on the first try, buy upgrades and try again! Enjoy!
For more games like this, be sure to check our collection of online action games. Have fun playing!
Developer
Toffee Games developed Earn to Die 2012: Part 2.
Features
Colorful 2D graphics
3 different and challenging levels
3 different vehicles to unlock and use
Various upgrades to unlock for your vehicle
Entertaining gameplay
Intuitive controls
Controls
Use the WASD or the arrow keys to control your vehicle. Press the X or the CTRL key to use the booster.