Play Now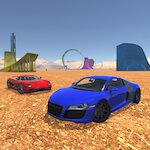 In Stunt Cars 2, it's time for you to show your amazing driving and maneuvering skills in one of the fastest sports cars. Driving at top speeds is very dangerous in real life, but no one can get hurt in this game. So take your place on the driver's seat, keep your eyes on the road, and floor the gas. Your stunts will prove your prowess in your driving skills.
There are no cops in this game, so feel free to unleash the speed demon within! Your objective in this game is pretty simple. All you have to do is to have fun by driving one of the many cars through different stunt platforms. Driving in such tracks might be challenging in real life, but you only need to use the WASD or the arrow keys to control your car in this game. To start the game, click on the play button in the main menu. Next, pick a car from 19 different options, and click on continue. Lastly, pick one of the 3 different areas to begin. Each of these areas presents different obstacles and stunt courses, so be sure to try them all. While in the game, you can drive around as you wish. If you get tired of your vehicle, you can change it from the buttons in the bottom right corner. Got stuck? Click on the reset car button in the top left corner to free yourself. Have fun!
Do you enjoy driving cars? If so, be sure to check our collection of free car games by clicking here. Enjoy!
Developer
Madalin Stanciu developed Stunt Cars 2.
Release Date
July 2015
Features
Large selection of cars to choose from
Multiplayer mode
Realistic driving physics
Lots of stunt platforms to try
Controls
Use arrow keys to control the car.