Play Now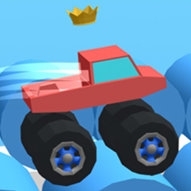 In Wheel Duel, it's time to unleash your inner race car driver! Are you ready to white knuckle the steering wheel and do what it takes to win this race? Let's start then! It's time to prove yourself!
Get ready to start the engine, fasten your seatbelt and floor the gas pedal! This race will be like nothing you've ever witnessed before. Are you brave enough to face other racers who are just as crazy as you are? Ready, steady, go! In this game, your objective is to win each race you participate in. But that's not going to be as easy as it sounds. In each level, you'll face many different obstacles. The one who manages to overcome these obstacles and reaches the finish line wins. To overcome these obstacles, you may need to change your wheel size. When you press the left mouse button and slide up, the wheel gets bigger. Bigger wheels will help you jump higher. However, sometimes you may need to go faster to win. Slide down to make the wheels smaller and go faster. When you reach the finish line, try to jump as far as you can to get more coins. You can use these coins to buy upgrades, change the car and its color. Have fun playing!
Can't get enough of the racing life? Check out our collection of online racing games by clicking here and show others who is the boss!
Developer
CarGames.com developed Wheel Duel.
Release Date
December 29, 2020
Features
Many levels to complete
Entertaining gameplay
Upgrades to buy
Nice 3D graphics
Controls
You can use your mouse to play this game.