Play Now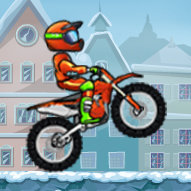 In Moto X3M 4: Winter, you better be prepared to test your motor riding skills to the fullest. With the cold season showing its effects, it becomes extra challenging to ride around. Can you overcome the icy obstacles and reach the finish line in each level without dying?
The wind carries the snow around and it freezes everything, but nothing can stop you. The objective of this game is not very different from the other titles in this wildly popular series. You try to complete each level by riding through various obstacles and challenging tracks to reach the finish line as fast as you can. Performing these stunts would be pretty hard in real life but the controls of this game are very simple. You can use the arrow keys to control your bike. Click on the play button to start the game, and then select a level. You unlock levels one by one as you play and complete each one. On a level, you can see how much time has passed since you started at the top of the screen. Time your move carefully to avoid getting caught in traps or stuck between obstacles. Activate the checkpoints so you can start from there if you die. Good luck!
If you like this game, then grab your towel, apply your sunscreen, and check the other title in the series, Moto X3M: Pool Party. Have fun!
Developer
MadPuffers developed Moto X3M 4: Winter.
Release Date
November 30, 2018
Features
3 different bikes that you can unlock and use
25 challenging levels to complete
Colorful 2D graphics
Entertaining gameplay
Controls
Use your arrow keys to control your bike.