Play Now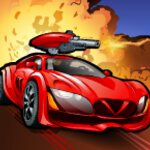 In Spy Car, get ready to brace the action! As a spy, you're given a secret mission by your organization. You must retrieve a valuable crystal from a hidden lab. You must be quick, so start the engines of your armored car, and hit the dangerous roads. Your enemies are waiting for you. Can you dodge their attacks and reach the lab?
A spy's life is full of secret missions, different enemies, and lots of action! Your objective in this game is to complete all the missions. The game features 4 missions, each with 3 levels. You must survive until the end to complete a level. You can check your progress from the bar located at the bottom of the screen. Your enemies know that you're hard to deal with, so they'll constantly attack you. But you're not helpless! From rocket launchers to different kinds of guns, you have many weapons to unlock and use against them. You can purchase these with the coins you earn by defeating your enemies. You can keep track of your money and the ammo in the top left corner of the screen. Your car's health and your nitro boost are located at the top. Good luck, agent!
Floor the gas and hit the road with various vehicles in our collection page of online car games. Have fun!
Release Date
May 2018
Features
4 different missions to play
12 different levels to complete
15 achievements to earn
An in-game shop to purchase different weapons and upgrades for your car
Controls
You can use the arrow keys or the WASD keys to control your vehicle. Press the Z key to launch rockets and the X key to use your speed boost. Use the SPACE BAR to jump.