Play Now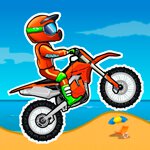 In Moto X3M, the amateurs should leave the tracks, as only the most talented riders could survive the various traps and obstacles waiting for them. If you believe you're one of the most talented motorcycle riders, then take your position by the start line, because everyone is here for a good show. Perform stunts, overcome the challenges, and make your way to the finish line in each level to prove your skills!
Get ready the unleash the daredevil within! The objective of this game is not quite different from the other titles in this popular series. You try to complete each level as fast as you can to earn the most stars. While attempting to take part in such a challenge and complete it in real life would be extremely dangerous and hard, the simple controls of this game make it easy for everyone. You can use the arrow keys to control your character. To start the game, click on the play button on the main menu and then select a level. Only the first level is available, but you can unlock the rest as you play. When you move, the timer will start, and you can track it from the top of the screen. When you perform stunts, seconds will be removed from your time. You earn stars depending on your completion time at the end of each level, so be fast. You can unlock other characters with these stars. Have fun!
Be sure to try other games in this series! Why don't you start with Moto X3M Pool Party? Enjoy!
Developer
MadPuffers developed Moto X3M.
Release Date
May 2015
Features
Colorful 2D graphics
3 different bikes you can use
25 challenging levels
Entertaining gameplay
Controls
Use the arrow keys to control your bike.