Play Now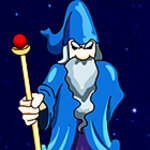 Epic Stand will take you to a fantasy world filled with various characters from wizards to goblins! Your keep is under the attack of the enemy horde, and their leader, the Dark Knight, won't stop until you surrender. Gather your forces and equip your swords and spells to repel the attackers. Do you have what it takes to complete all the levels and collect trophies from your slain enemies?
Slam your staff to the ground and conjure powerful spells as the master wizard to show your enemies who they're dealing with! Your objective in this game is to complete each level by defeating all your enemies and take as little damage as you can. You don't have to be a sorcerer in real life to cast amazing spells in this game, as the only thing you need to play is your mouse. The game features multiple levels, but you start from the first level and unlock the rest one by one. Your keep has 3 floors, and your enemies will try to climb up to the top. Click on the screen to cast spells on your enemies. In each level, you can earn up to 3 trophies, and the amount you get depends on how many floors you kept at the end of the level. These can be used to unlock different upgrades. Each level becomes more difficult with new enemy types, so good luck!
For more games like this, be sure to check our collection of online and free strategy games! Have fun playing!
Developer
Bright Sight Team developed Epic Stand.
Features
21 different upgrades to buy
Colorful 2D graphics
24 different achievements to earn
Multiple levels to complete
An unlockable survival mode
Controls
You can use your mouse to play this game.