Play Now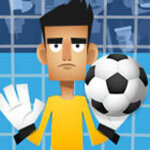 In Euro Football Kick 2016, it is your time to take the Euro Championship! This year all the matches are being organized in France, and you have 7 victories to win. Select your countries to play in their team and beat your opponents one by one. You are only one click away to make your name written all around the world. Step into the field now, and give the fans a victory they can never forget!
Are you excited already? No worries! Little excitements are the best to be motivated! In this fun sports game, your objective is to win the match by kicking at least 3 goals to the goal post. To start this hot competition, simply click on the play button and enter the game. The very first thing you should do is to choose 1 group of countries out of 6 to play in their teams. Then, you will see the France map and the locations that the match will take place. Click on the first location and face your opponents. You can see the scores of both teams at the left top of the game screen. You have three chances that you can miss and check them from the right top. Kick some excellent goals now and win the victory! Good luck and bonne chance!
Be sure to check our collection of free and online sports games by clicking here to discover new athletic talents of yourself!
Developer
Kizi developed this game.
Release Date
April 24, 2017
Features
2D colorful graphics
6 different group of countries
7 locations where matches take place
Simple controls
Controls
Click and drag your mouse to the direction you want to kick your goal.