Play Now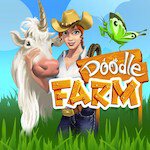 In Doodle Farm, there was nothing at the beginning, then you came along! Get ready to create a universe out of nothing in this addictive game. Command elements and combine them to create new things. The universe is waiting to be created. Are you ready?
From animals to landscapes, what will you create? The objective of this game is simple and fun. As the divine being in this game, your objective is to combine different elements and things together to create new things. You can play the game with your mouse. In the beginning, you'll only have basic elements such as water, fire, and air. Click on two elements from both sides of the screen. If they are compatible, they'll form a new thing. If they aren't, try different combinations. At the bottom of the screen, you can see different buttons to use. You can use a hint when you're stuck, visit the in-game shop to buy hints and other useful things, and check the recipe book for the combinations you've discovered. At the top of the screen, you can see how many elements and element groups you've discovered out of the available ones. Keep trying and don't stop until you create the best universe ever!
Push your boundaries and try your hand at different challenges with the games listed under our online skill games. Enjoy!
Developer
JoyBits developed Doodle Farm.
Release Date
April 12, 2019
Features
9 different achievements to unlock
Colorful 2D graphics
Lots of different elements and items to combine
Simple controls
Entertaining gameplay
Controls
You can use your mouse to play the game.
Controls
Use the arrow keys to move around. Press the A key to jump and the S key to attack.