Fashion Designer New York
Play Now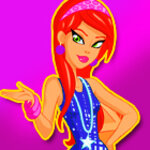 In Fashion Designer New York, get ready to climb to the top of the fashion world with your amazing creations. Women all over the world are looking for new styles, and you're one of the best stylists to deliver new and fantastic collections. It's time to rock the fashion world!
Your objective in this game is pretty fun and easy to complete. You take the role of a fashion designer and create collections for different studios. To start the game, click on the screen on the main menu. Next, pick a design studio to start working. Each studio has an owner, and they'll ask you to create 3 different looks. Each one of these looks requires different clothing and accessory combinations. First, pick 3 models to work with. On the right side of the screen, you'll see different categories. Pick a top, bottom, shoes, and accessories. Drag them to your model to make her wear them. Finalize the look with makeup and hairstyling. When you complete all three looks, you can ask the studio owner for their opinion by clicking on the pre-show button in the bottom right corner. They'll point out your mistakes, and you can change them before heading to the show. At the show, your creations will be graded. Good luck!
Go ahead and try our other popular game Stella's Dress Up Show, and become a trend-setter! Enjoy!
Features
Colorful 2D graphics
4 different design studios to work with
Different models that you can dress
Lots of clothing and accessory options to use
Entertaining gameplay
Controls
You can use your mouse to play this game.