Play Now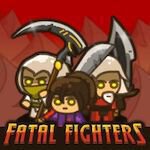 The Fatal Fight is about to start, and it's time to see which hero will become victorious. If you want to take your place in this tournament, then pick a character and head into the arena. Your opponent is ready to attack, what about you?
Sounds of clashing of weapons comes from the arena. It seems this will be a match unlike any you've ever seen before. Your objective in this game is to complete the tournament by defeating all of your opponents. Fighting against such rivals is not an easy task, but with the simple controls of this game, you can fight like a pro. Start by picking a character from the main menu by double-clicking on them. The game features 8 different heroes that you can play, but you have to unlock them first. This can be done by earning achievements. When you start, you'll see a board at the center of the screen. Each character has 4 moves and 2 of them are exclusive to each character. To use these moves, you have to fill their bar by collecting their blocks from the board. Once you're ready, click on your moves to use them. The more filled their bar, the higher your chance of performing a move. Good luck, warrior!
Up for another challenge? Then why not go and try our other popular and tricky game, 2018 Balls? Have fun playing!
Features
8 different heroes to choose from
Colorful 2D graphics
Intuitive controls
Entertaining gameplay
35 different achievements to earn
3 different difficulty settings
Controls
You can use your mouse to play this game.