Play Now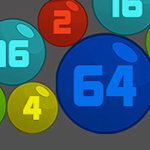 With 2048 Balls, it is time to train your brain now! No matter if you are good or bad at math, this fun skill game will do the mathematical operations for you! Just drop the ball to match the same numbers and enjoy lots of points you've earned. Sounds not that hard, huh? If so, let's start the game and see how far you can go!
To add the numbers was never this much fun before! In this fun and relaxing 2048 game, your objective is to merge the same-numbered balls to ultimately reach the number 2048. To play, simply move your mouse or finger around the start line and click to drop the ball to wherever you like. You should match the same numbered balls to make the addition. The bigger the numbers are, the bigger the balls get. So, as you progress in the game, some balls, especially the little ones can get stuck among the others. Your main goal is to match as many balls as possible to make a clearer board. You will see a line at the top of the screen. If the balls reach that line, you'll have to start all over again. You can check your total point at the right top of the screen. Good luck and have fun!
Be sure to check our collection of free and online skill games to browse more colorful titles like this game.
Developer
Active Games developed 2048 Balls.
Release Date
January 8, 2020
Features
Colorful 2D graphics
Adding the balls
Endless adventure to enjoy
Entertaining and addictive gameplay
Controls
You can play this game with your mouse or finger.