Play Now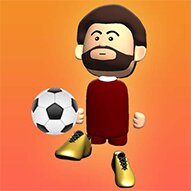 Show off your kicks by completing the challenges of Football Juggle! Start your challenge with a regular soccer test on a calm day, and raise your game by adding new modes at more advanced levels! Use your ball to break bricks and collect gold; turn it into an instrument to achieve any goal!
If you think you are a master of soccer juggling, you should try this game because it gets much harden than the real-life version! Also, you can alter your looks with a wide selection of skin options, creating a dream player with any clothes and background you like! Now, get out on the street and start juggling! Click or tap on one foot, whichever you want, and start kicking the ball! The only rule is that the game is over when the ball touches the floor. Reach the level goal and proceed to the next one. You can unlock new modes with unique challenges by getting to certain levels. There are three unlockable challenges: bricks, hoops, and the wind. The bricks mode merges football with the classic arcade game, and you use your ball to break bricks. Hoops mode is the one you play basketball with a football. And finally, the wind challenge adds new factors to the game and makes it even more difficult. Have fun!
If you like this game, you can check out our Sports Games to find similar challenges!
Developer
2Play developed Football Juggle.
Release Date
September 19, 2022
Features
Nice 3D graphics
Cute and funny character design
Improving reflexes and motor skills
Unlockable game modes
Available on mobile
Controls
Use your mouse or tap to hold a foot and move it around to kick.