Play Now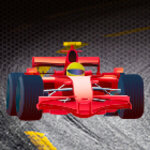 In Formula Racer 2012, get ready to floor the gas and beat your opponents in series of exciting and challenging races. Unleash the speed demon in you, and watch as the other racers disappear in your rearview mirror. Can you complete each race in the first place and claim all the awards?
An energetic song is playing, and the crowd is cheering with excitement. Keep your hands on the steering wheel, your eyes on the road and your mind on becoming the winner. Your objective in this game is to complete each race in the first place. Start the game by clicking on the play button on the main menu. On the next screen, you can select a car from 3 different options. Only one of them is available in the beginning, but you can unlock the rest later with the money you earn. Then pick one of the race tracks. Just like the cars, you have to unlock 2 of the 3 options here. After picking a track, you can adjust the stats of your car, change its color and the wheels. When you earn enough money, you can upgrade your stats! Use the arrow keys to control your car. Feeling like you're left behind? Check your boost meter from the bottom right corner. Use it to close the gap between you and others. Good luck!
Click here to take part in an extreme race in our popular game, Hover Racer. Enjoy!
Developer
Turbo Nuke developed Formula Racer 2012.
Features
14 different award to earn
3 different cars to pick
3 different track to select
Colorful 3D graphics
Intuitive controls
Entertaining gameplay
Controls
Use the arrow keys to control your car and the SPACE BAR key to activate your speed boost.