Play Now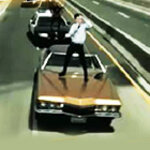 In Freeway Fallguy, it's time to start the cameras rolling, as you'll be shooting an exciting music video! Inspired by the popular band Raygun's Just Because music video, you can also feel like a rockstar as you try to drive on the freeway with the lead singer dancing on the car!
3, 2, 1, action! The objective of this game is both challenging and fun! There are 5 different stages in this game, and you try to complete each one with a score as high as you can get. You can play this game with your mouse, so click on the play button on the menu to start. The car will move forward on its own, and all you have to do is to move it left and right to avoid crashing into various obstacles on the way. You'll see the singer dancing and singing on top of the car's hood, so you should be careful. Avoid making sharp moves, or he might fall off! You earn points as you move forward. Try to collect as many film strips for bonus points. Clicking on the screen boosts your speed, and this will also give you extra points. You complete a level when you reach the end. Have fun!
Whether you enjoy performing stunts or taking part in thrilling races, our collection of free and online car games has everything you're looking for! Click here to visit our category page, and start browsing our games!
Developer
KillerViral developed Freeway Fallguy.
Features
5 different levels to complete
Entertaining gameplay
Colorful 2D graphics
Intuitive controls
Challenging level design
Controls
You can use your mouse to play this game.