Play Now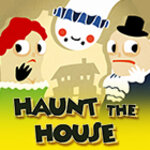 In Haunt the House, it's time to protect your mansion from the intruders. Being a ghost makes it hard to own a property, as no one would take your claim seriously because they don't see you. But you're fed up with the unwelcome visitors, and it's time for some ghastly action! Can you scare away all the unwelcome visitors?
This will be a night to remember for the intruders. The objective of this game is fun to accomplish! In addition to being dead and transparent, as a ghost, your other dominant trait is to enjoy scaring the living. You try to scare the guests away from your mansion by performing various creepy and strange actions. Start the game by clicking on the play button on the main menu. Your mansion is big and has many different rooms. Float around and visit each room. Possess an object when you're in front of it to frighten the people in that room. At the bottom of the screen, you can see the atmosphere meter. Fill this by scaring people, and they'll start to leave one by one. In the top left corner, you can see the number of people currently in the house. You win when everyone runs away! Have fun!
Do you enjoy playing with ghosts? Then be sure to check our other game Rolling Ghosts, by clicking here.
Developer
Armor Games and the Super Flash Bros developed Haunt the House.
Release Date
2010
Features
Colorful 2D graphics
A cute ghost main character
Intuitive controls
Addicting and entertaining gameplay
Controls
Use the WASD keys or the arrow keys to fly in the mansion. Press the SPACE BAR to possess objects.