Play Now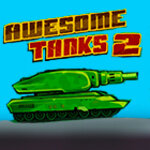 Awesome Tanks 2 continues to thrill its fans with the second version of this popular tank war series! These tanks are AWESOME! You can upgrade the stats, change the weapons, and increase your performance by eliminating the enemies! This is a battlefield for those with brave hearts. So, let's see now if you can destroy all your opponents and complete the levels one by one. Do have what it takes to win this war?
Awesome tanks with no limits! Here, you can shoot everything and anything you see 'cause one can never know what all these walls and bricks can bring you. This war is gonna be LEGEN - wait for it - DARY! Drag your mouse to see your environment and move with the arrow keys or WASD keys. Eliminate all the tanks by non-stop left-clicking. The devices and bricks can give you lots of coins, freezing stones, and first aid kits. You can track your life bar from the left bottom corner of the game screen. With your earnings, you can upgrade your performance and weapon stats. Each kill gives you lots of coins too! Don't forget to collect all the coins after eliminating your opponents. It is time to rule the tank world and show everyone who the most talented soldier is. If you are ready, let the game begin!
Are you up for more challenges and shooting more opponents? Then, be sure to check our collection of free and online action games to browse more fun titles like this game.
Developer
Mad Buffer developed this game.
Release Date
March 12, 2021
Features
2D colorful graphics
Several challenging levels to complete
Performance and weapon stats upgrade
Various coins and rewards to collect
Controls
Use the WASD or arrow keys to move around. Press on the left click to shoot.